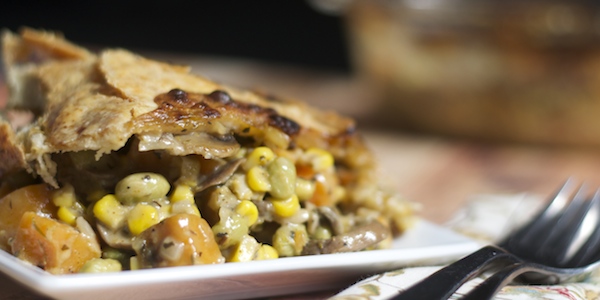 Colder weather is made for comfort food, and pot pies top our list of cozy dinners.   With a buttery, flaky pie crust and vegetable-packed casserole, it's a dinner the whole family feels great about eating. This week we're sharing 7 ideas for making delicious pot pies at home.
1) Go Veggie
With a rich sauce and plenty of vegetables, we don't miss the meat. Our favorite combination is sweet potatoes, green edamame, sweet corn and earthy mushrooms, above. (Hungry? It's on the menu this week, here.)
2) Cornbread Topping
Give your pot pie a Southern Spin with a cornbread crust. It pairs with every flavor.
3) Biscuit Topping
Who says pot pies need a pie crust topping? Bake yours with biscuits on top for a fun change of pace. (Refrigerator case biscuits work perfectly.)
4) Hand Pie
Another use for biscuit dough. Roll the dough flat and then make calzone-styled hand pies with the filling inside. The size is up to you: a full single serving portion or empanadas for folks who want a little more dough with their filling.
5) Asian Spin
Who says pot pies need to be down-home flavored? Add some red curry paste to your favorite veggies, mix in some coconut milk and top with a pie crust. It's a flavor sensation we just love.
6) Pizza Pot Pie
With marinara sauce, veggies and plenty of mozzarella cheese, a pie crust or pizza dough top makes it a delicious meal.
7) Chili Pot Pie
It doesn't get any simpler than this. Open a can of your favorite chili, top with a pre-made biscuit dough, pie crust or corn bread mix, and you've got a cozy dinner straight from your pantry. (A dollop of sour cream on top adds to the fun.)
Hungry for More?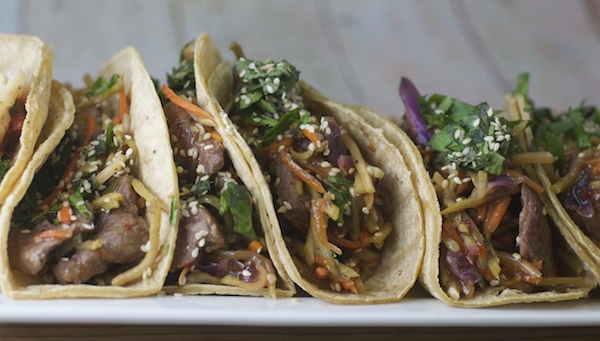 How to do make dinner fun? At the Meez Kitchen it's all about taking classic flavors and giving them a delicious twist.  From putting fresh Kung Pao flavors into a taco and baking up a pizza-flavored Chicken Pizziolo to creating a lightened up version of a Vegetable Pot Pie, this week's menu puts a fun twist on your favorite classic recipes.  Creative recipes.  Local footprint.  Healthy meals in a heartbeat.  That's the magic of Meez.
See all the recipes and order (here) at www.meezmeals.com.