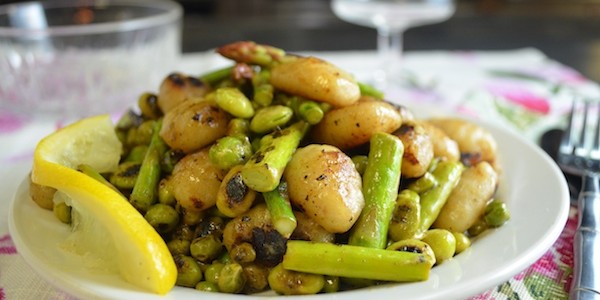 If there's one ingredients that says spring, it's asparagus.  It's delicious, easy to cook and packed with more vitamins and nutrients than we know what to do with.

Best of all, it's one of the easiest veggies to cook.  Just steam it and serve, and you have a vegetable almost everyone will devour.  So why a whole blog post?  Because as great as steamed asparagus is, it's even better with a few simple  twists.  This week we're sharing 7 of our favorite ways to make asparagus extra delicious.

1) Topped With Aioli
No asparagus list is complete without mentioning  a creamy topper, and hollandaise is the traditional go-to.  But we think aiolis are even better.  Just mix up some garlic and lemon with mayo and you have a tasty topping.  Or sriracha, lemon and mayo.  Or cilantro, lime and mayo.  You get the idea.
2) Roasted. Just Roasted.
So simple, and yet so much more delicious than steamed.  Drizzle with olive oil, sprinkle with salt and pepper and cook in a 425 degree oven.  When it's golden brown in places, squeeze with a lemon and enjoy.
3) Paired with Fruit
Put two delicious ingredients together you and get a meal that's even better than either one alone.  It's simple math, right?  Try it with oranges or, our favorite, roasted pear.
4) Mint & Basil Stir Fry
Sauté the asparagus, then toss with with sesame oil, hoisin sauce, lime juice and a handful of slivered mint and basil.  The fresh flavors are unbeatable.
5) With Cheese
A little cheese gives asparagus an extra oomph that puts it over the top.  Our favorites are blue cheese and Parmesan.   With toasted gnocchi (above), regular pasta, rice, beans or just on its own.  However you serve it up, it's heaven.
6) As a Taco
We believe most things taste better in a tortilla, and asparagus is no exception.  Try it with pickled red onions and chipotle crema, which is a fancy way of saying sour cream, chipotle chilies and lime juice.  Truly heaven on earth.
7) Cajun Style
If you're craving spice, drizzle asparagus with olive oil and a hefty dose of Cajun rub.  The blackened spears are delicious plain, in a sandwich, dolloped with hummus or over rice.