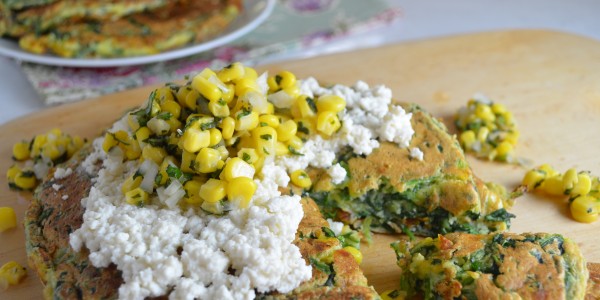 We're in love with breakfast treats.  Mention pancakes, French toast, muffins and omelets, and we start to drool.  So why save them for the morning meal?  By adding some veggies, herbs and savory spreads, they make great dinnertime fare the whole family will love.
This week we're sharing 9 ideas for making breakfast favorites into delicious dinners.
1)  Savory Pancakes
We're hooked on these for a can't-miss family dinner.   Skip the sugar and mix spinach or zucchini into the batter and serve topped with cheese.    (Sound delicious?  They're on this week's menu with a citrus cream cheese spread and basil & corn relish.  See all the details here.)
2)  Parmesan French Toast
Top with a basil-Parmesan crust and serve sautéed spinach and roasted tomatoes over the whole thing.  It'll change the way you think about French toast.
3)  Scrambled Egg Sandwich
Scramble eggs with your favorite cheese, herbs and some mushrooms or red peppers, then serve between two pieces of truly delicious bread.   (The bread's even better when it's grilled and brushed with olive oil.)
4)  Mediterranean Muffins
Yep, muffins.  Mix fresh spinach, roasted pumpkin cubes, mustard and feta cheese into the batter and dial back on the sugar.  Yum!
5)  Cornmeal Waffles
We love them topped with a veggie chili, or cooked up with shredded zucchini or carrots and topped with a lemon cream cheese.
6)  Stuffed Omelets
The perfect speedy dinner.   Add a dollop of pesto or handful of fresh herbs to the egg and fill them with any tasty veggies leftover in your fridge.  Or keep the egg simple and serve it topped with balsamic-glazed veggies.  Or top it all with a cilantro crema.  The possibilities are endless, but always delicious.
7)  Huevo Burrito
Take the word "breakfast" out of breakfast burrito, and it's the perfect dinner.   Scramble an egg, add spinach, peppers, avocado and salsa, and it's a meal everyone will look forward to.
8)  Eggs in a Hole
Start with a classic egg in a hole (cut a circle out of a piece of bread and fry an egg in the hole), then serve topped with a roasted bell pepper and spinach.  You can make it even fancier with a garlic aioli.
9)  Scrambled Potato Skins
There's nothing more classic than eggs and potatoes, so how about putting them together?  Just top potato skins with scrambled eggs, green onions and cilantro sour cream.
Have other favorites at your house?  Let us know!