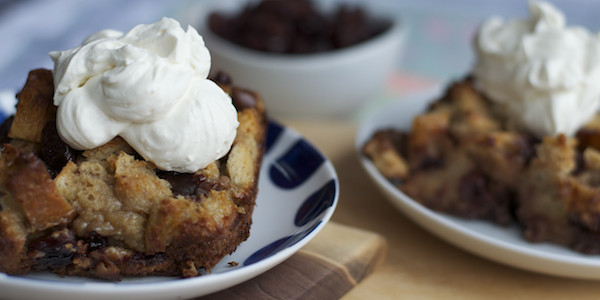 We're hooked on bread puddings.  They're easy to assemble fuss-free desserts that make everyone swoon. This week we're sharing 9 of our favorite bread pudding combinations guaranteed to make your mouth water.
The basic recipe is easy:  toast delicious bread, cover with eggs, sugar and milk, then bake.  The magic comes from what you mix in:
9 Tasty Ideas
1) Chocolate Cherry
Plenty of chocolate chunks, dried cherries and toasted pecans is the perfect combination of sweet and tart. (Mouth watering?  We're delivering it on Meez menu this week.)
2) Spiced Pumpkin Bread
Add spiced pumpkin puree to the eggs and milk for a festive spin.
3) Cinnamon Roll
Start with cinnamon swirl bread and add  toasted walnuts.  You've got an easy take on cinnamon rolls.
4) Classic Apple
Add a diced apple and cinnamon to the dish.  Even better with golden raisins.
5) Ginger Bread
Add molasses and ground ginger to the eggs.  The whole house will smell of the holidays.
6) Caramelized Pear
Add some melted butter to the milk and eggs, then just pour over the pears and bread.
7) Nutella
Ready for extra indulgence? Slice croissants in half and slather with Nutella, then dice into chunks.
8) PB&J
Whisk peanut butter into your milk and eggs (we use 1/4 cup per egg), then  brush the baked dish with grape jelly.
9) S'Mores
Add tiny marshmallows, chocolate chunks and crushed graham crackers