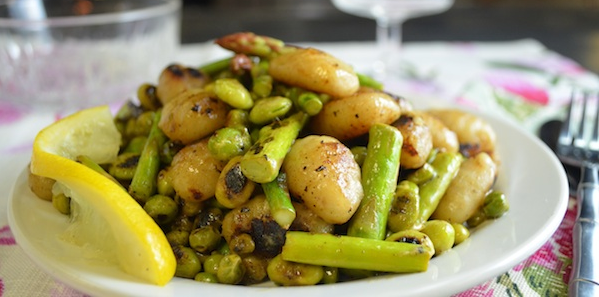 If there's one food that says spring, it's asparagus.  It's the tender vegetables once reserved for royalty (really, check out Wikipedia) and we tend to go a little crazy when it's in season.  Here are 10 quick ideas from the Meez Meals Kitchen to make it a star:
1) Basic Roasted — Hot oven, generous drizzle of olive oil, salt and pepper, cooked until it gets a little browned in places.  Heaven!
2) Fancy Roasted — Same idea as above, but squeeze a lemon over it and sprinkle with Parmesan or, Jen's Favorite, Feta, before serving.  Truly over the top.
3) Grilled — Just like roasted, but cooking it outside makes it even more fun.
4) Tossed with Pasta — Saute 1″ pieces and toss with spaghetti, garlic, olive oil and a squeeze of lemon.
5) Sesame Stir Fry — Cook 1″ pieces over very high heat, then drizzle with sesame oil, sesame seeds and touch of chili sauce
6) Pizza!  — Top your favorite dough with sauteed asparagus, caramelized onions and goat cheese, ricotta or mozzarella.  Squeeze a lemon over it when it comes out of the oven.
7) Thai Curry — Cook up with coconut milk and a little Thai curry paste with any veggies that you have the in the fridge.
8) Warm Salad — Cut the asparagus into 1/4″ rounds (it makes asparagus more fun), give it a quick saute and toss with balsamic, Dijon and olive oil.  Add some radishes, lima beans, corn, or anything else…
9) Raw Salad — Shave the asparagus using a vegetable peeler.  (Sounds crazy, we know, but it works.)  Toss with red onion, pecorino cheese, olive oil and red wine vinegar.  Even better after it has sat for 30 minutes.
10) Phyllo-Wrapped — One of Pete's tastiest hors d'oeuvres.  Wrap in phyllo (or puff pastry) and bake.  You can even go a little crazy and add some prosciutto to the mix.  The crowd always oohs and ahhs over these.
Inspired?  Let us know what you cook up!