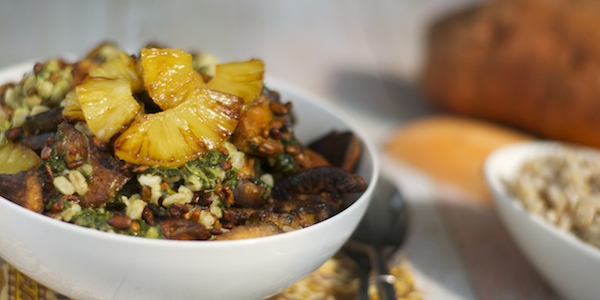 Members fell in love with our Brazilian faro with roasted pineapple.  We're not sure if it was the cilantro vinaigrette, the seasoned sunflower seeds or the roasted pineapple, but the result is a bowl of deliciousness that will have you researching airfare to Rio.

Ingredients
olive oil
1 cup farro
4 cups sweet potatoes, diced
1 cup pineapple chunks or rings (canned is fine)
½ cup raw sunflower seeds
1 ½ tsp brown sugar
1 ½ tsp cajun spice
1 ½ Tbsp lemon juice
1 Tbsp + 1 tsp cider vinegar
2 tsp chopped cilantro
2 tsp brown sugar
2 cloves garlic, minced
½ tsp onion powder
¼ tsp ground cumin
Putting It All Together
Preheat your oven to 400 and put a saucepan of water to boil.
Salt the boiling water and add the farro.  Cook until al dente, about 25 to 30 minutes.  Drain, then return to the pot until you're ready to eat.
Arrange in the sweet potatoes on a rimmed baking sheet and drizzle with olive oil, salt and pepper.  Toss well, then arrange in a single layer.  Bake until golden brown, about 20 to 25 minutes, stirring once halfway through.
While the sweet potatoes are cooking, put the pineapple onto a rimmed bake sheet.  Drizzle with 1 tsp of olive oil and bake until golden brown, about 12 to 15 minutes.
Put the sunflower seeds, brown sugar and cajun spice into a mixing bowl and add 1 tsp of water and ½ tsp olive oil.  Mix well, then drain any excess liquid.  Put onto one of your baking sheets if there is room (if not, use a clean baking sheet). Cook until they blacken in places, about 7 to 10 minutes, stirring once halfway through.
While everything is cooking, mix 4 Tbsp olive oil with the remaining ingredients to make the cilantro vinaigrette.
Mix the farro and sweet potatoes in a large mixing bowl with vinaigrette.  Mix well, then serve topped with the seeds and pineapple.
That's it.  Enjoy!
Serves: 2