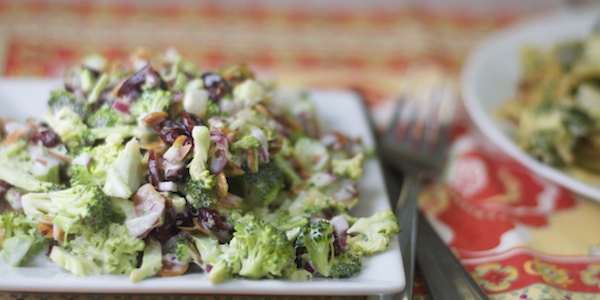 We're hooked on salads, and this week we're sharing the recipe for one of our favorites.  With fresh broccoli bites, dried cranberries and toasted almonds in a delicious buttermilk dressing, it's a recipe your family will go crazy for.
Ingredients
1/4 cup buttermilk
3 Tbsp mayonnaise
3/4 Tbsp sugar
1 1/4 cup broccoli floretts
3 Tbsp slivered almond, toasted
1/4 cup dried cranberries
1/4 cup red onions, minced
Putting It All Together
Put the buttermilk, mayonnaise, and sugar into a mixing bowl and whisk. This is will be the buttermilk dressing.  Set aside.
Toss the broccoli, toasted almonds, cranberries and the red onions together in a mixing bowl with half the dressing.
Mix well, then add salt and pepper, plus more dressing to taste.  Enjoy!
Serves 2