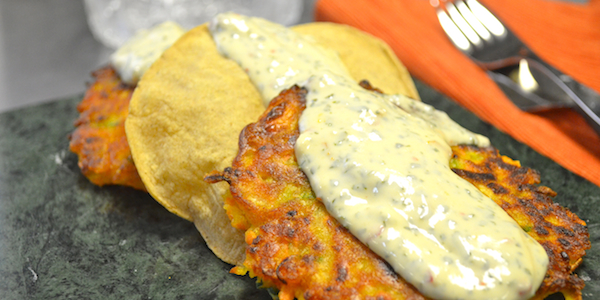 We're in love with fritters.  They look fancy, but are easy to cook up.   This week we're sharing our recipe made with carrots and leeks.  They're irresistible, and any combination of veggies works, so let your imagination go wild.   We topped them with a minted yogurt sauce and served them up with crispy tortillas for a tostada stack for this photo.  We also love them paired with  a chimichuri sauce.  A garlic aioli would also be great.  So would a soy ginger sauce… You get the idea.
A few tips as you cook:
A hot pan is the key to crispy fritters.  Test the oil with a little batter before you start cooking each one, otherwise you could end up with soggy patties.   (Smoke means the oil got too hot, though.  If the oil starts to smell smoky, pour it out and start again.  It'll give a burnt flavor to the food.)
If you have a large skillet, you can cook several fritters at once.  They're best straight out of the pan, so wait to cook them until you're just about ready to eat.
Have some sparkling water in the house?  Use it instead of plain water when you're mixing up the fritters.  It'll give an even lighter texture.
Ingredients
Olive Oil
Salt & Pepper
1 Cup Flour (All Purpose or Rice Flour work weel)
1 Tbsp Cornstarch
2 ½ Cups Leeks, Sliced Thin
1 ¾ Cups Carrots, Cut Into Matchsticks
Instructions
Put the flour and cornstarch into a bowl with ¾ cup of water and mix well.  Add the carrots and leeks and a good pinch of salt and pepper.  (If the mixture looks too dry, add a splash more water.)
Heat a little oil in a skillet over medium high heat.  (The amount of oil will depend on the size of your skillet.  It should cover the bottom of the skillet, but doesn't need to be ¼" deep the way it would if we were shallow-frying the fritters.)   When you think it's hot, test with a pinch of batter; when it sizzles and turns brown, remove and get ready to cook.
Use a ¼ cup measure to scoop out batter and create a patty.  Flatten it with your spatula and squish the edges in, if you have any fly-away pieces.  Cook until you see the browning creep up from the bottom to the edges, then flip.  Cook until golden, then get ready to feast.
That's it.  Enjoy!
Serves: 2