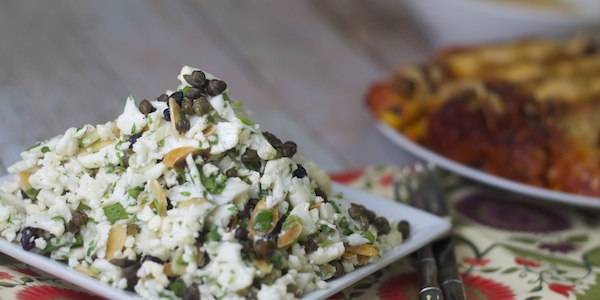 We're hooked on cauliflower as a substitute for traditional grains.  When you chop it into tiny bites, it becomes a perfect canvas for anything you can imagine.  This week we're sharing the recipe for one of our favorites, this Currant & Cauliflower "Rice" Salad.  It's a speedy power-veggie recipe that's perfect hot or cold. 
Ingredients
Olive oil
1 3/4 cups cauliflower florets
1 1/2 Tbsp cider vinegar
1 Tbsp lemon juice
3 Tbsp  currants or raisins
3 1/2 Tbsp, capers, rinsed and drained
3 Tbsp almonds, sliced and toasted
1 Tbsp parsley, minced
2 tsp green onions, cut small  (whites included)
Putting It All Together
Grate the cauliflower florets or pulse in a food processor until they resemble rice.
Put 3 Tbsp of olive oil, cider vinegar and lemon juice into a mixing bowl and whisk, then add the currants and set aside.
Using a paper towel, pat the rinsed capers until they are dry.  Heat 2 Tbsp olive oil in a small skillet over medium heat. Add the capers to the hot oil and cook for 5 minutes or until crispy. Remove to a clean paper towel-lined plate and allow to cool.
Combine the cauliflower, almonds, parsley and green onions in a mixing bowl.  Toss with the currant vinaigrette and season with salt and pepper to taste. Serve topped with the crispy capers. Enjoy!
Serves 2