Food for your Mini Meez
Making baby food can be one of the most nurturing things you do as a parent, but boy is it time consuming, not to mention nerve-racking! All sorts of questions run through your mind – what can my new baby eat? How do I know if they are ready to start eating solid foods? Are there certain foods that should be avoided? The list goes on…
Do you think your baby is ready to start eating solids? Follow these helpful tips from Little Harvest's Pediatric Nutritionist, Marisa Persky MPH, RD, LDN.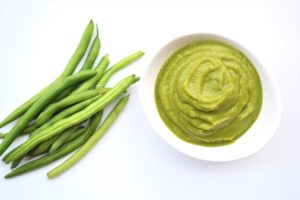 These commonly used signs, indicate your baby might be ready to start enjoying solid food. 
Baby can hold his head up and sit in a high chair with good head control.
Baby shows interest in the food you are eating, follows the food to your mouth, reaches for your food, or opens his mouth when food comes his way.
Baby moves the spoon-fed food item from a spoon into his mouth and throat without spilling most out of his mouth.
Feed breastmilk or formula prior to feeding solid foods (first bites – 1 year).
Seek approval from your Pediatrician prior to introducing solid foods.
The best first foods to feed to your baby should be of single-ingredient origin, plant-based, organic, and low in sugar. Foods rich in iron are extremely important since your baby starts to lose their iron stores at 6 months. It is best to cook and puree ingredients to a very smooth, creamy consistency and introduce one new food every 2-3 days; 3 days if there is a family history of food allergies. It's recommended that you mix breastmilk or formula in with your baby's purees to adjust the consistency to what is best for your baby and for an added boost of nutrients.
Some great first foods!
Lentil Puree (any variety of lentil)
Green Bean Puree
Broccoli Puree
Squash Puree
Carrot Puree
Ancient Grain Puree (i.e. Quinoa) – great in place of store-bought baby cereals
Squash Puree
Sweet Potato Puree
Rather have someone else make, fresh, organic baby food for you? Try Little Harvest! A new baby & toddler meal & snack delivery company today! Meal plans start at just $3.27 per day & shipping is free! Food is all made from scratch using local, organic ingredients & follow the American Academy of Pediatrics standards. Meez customers can enjoy 40% off their first order with code "Meez"!