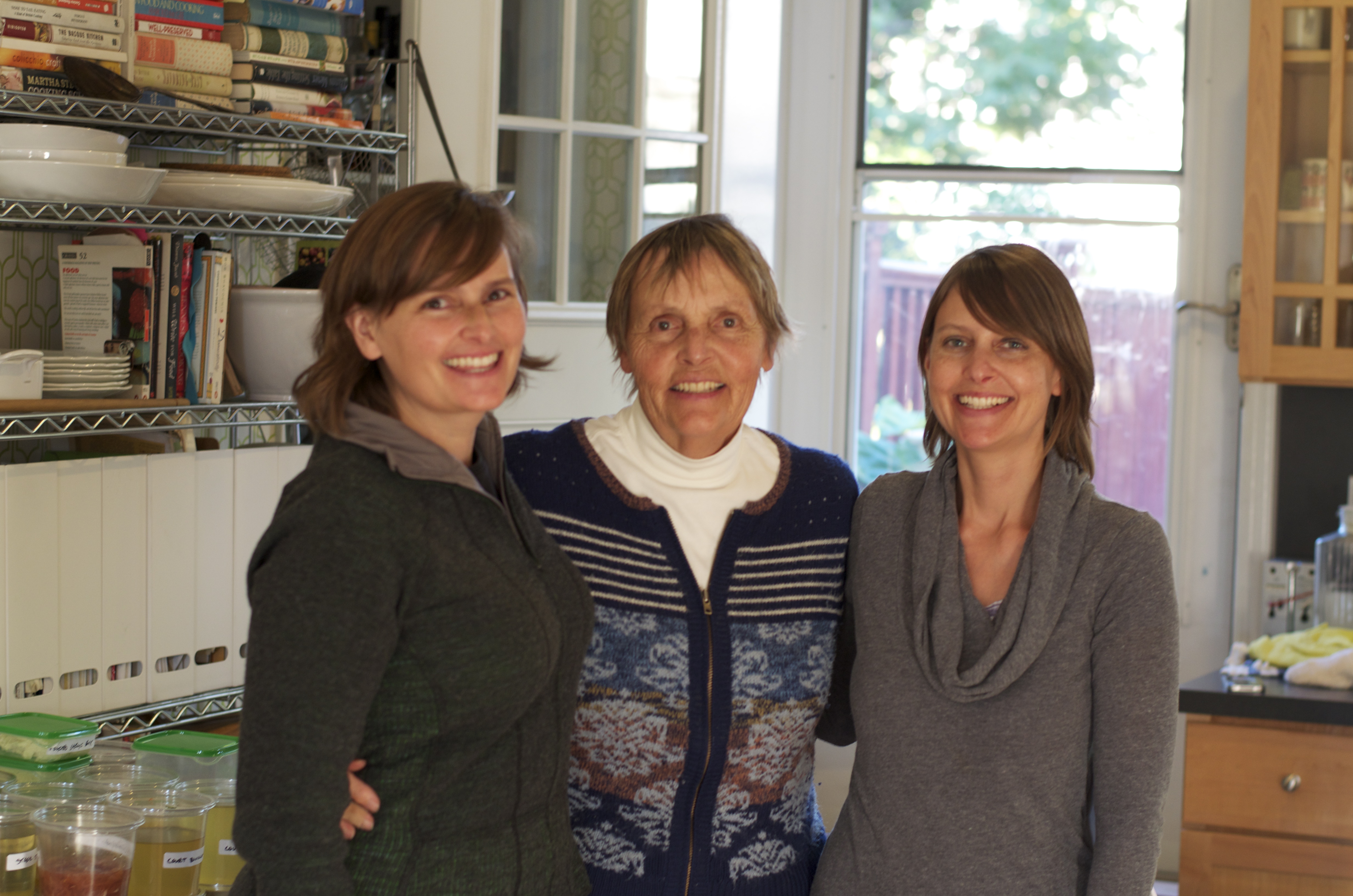 Jen (right) with sister Holly (left) and mother, also Holly (center)
One question members always ask is how Meez got started.  This week Jen Moore, Meez's founder, is sharing her story on the Meez Kitchen Blog.
I grew up with a mother who cooked dinner from scratch for us every single night.  I loved it, and assumed I would do the same for my family.  Then reality hit.  I was working hard at my corporate marketing job, and even though I loved cooking, it was at the bottom of my priority  list when I got home from a long day at work.
I was commiserating with my sister, a working mother with a small child at home, when she said that she didn't want someone to cook dinner for her, she just wanted someone to do all the prep work.
It was like a light bulb going off in my head. "That is a business that should exist," I thought.  Because the magic of home cooking isn't the meal planning.  It's not the grocery shopping.  And it's definitely not the chopping of the onions.  The magic is in the cooking itself.  It's the sizzle of onions in the sauté pan, the transformation of raw ingredients into something more, and in the feeling that comes from sitting down to a meal you made yourself.
But no one was making cooking easy, delivering the ingredients for fun, healthy dinners prepped and ready to cook.  So I took the plunge and left my corporate marketing job.  I'd been in brand management at the big packaged goods firms Unilever and Barilla, so I knew how important it was to develop a business that would listen to our customers and create an experience that would make dinnertime truly magical.
After doing some small scale tests, Meez officially launched in October 2010, making our first deliveries to 10 customers, some of whom are still cooking with us all of these years later.  A lot has changed since then, from the number of items on our menu and the day of our deliveries to having a full team of dedicated professionals serving our customers.   But what hasn't changed is our commitment to bringing the magic back to dinnertime by making it fun and easy to cook delicious, healthy meals from scratch.
Creative recipes.  Green footprint.  Healthy meals in a heartbeat.  That's the magic of Meez.