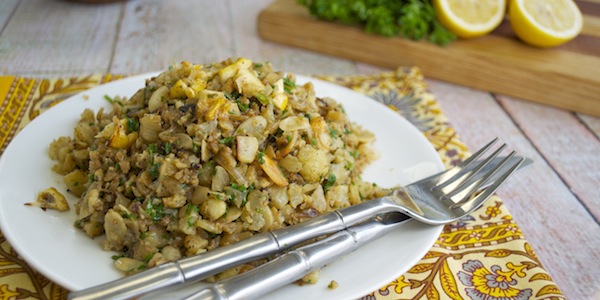 "We LOVED it!" "Out of this world!" "We hope it will come back soon!"
If you missed our Indian cauliflower "couscous," you're in luck.  We had so many requests for the recipe we couldn't resist sharing it.   In this unconventional — and totally delicious — dinner, tiny cauliflower bites take the place of couscous.  One taste of this grain-free dinner and you'll be hooked, guaranteed.

Ingredients
1 lemon
pinch of sugar
5 cups cauliflower florets
2 Tbsp butter
1 cup onion, sliced
2 to 3 cloves garlic, minced
1 tsp curry powder
1/4 tsp dried thyme
15 oz can of chickpeas, rinsed and drained
1/4 cup slivered almonds, toasted
1/4 cup raisins
2/3 cup parsley, chopped
crushed red pepper (optional)
olive oil
salt and pepper
Member Tip: Try topping it with a yogurt sauce or splash of harissa
Putting It All Together
Preheat your oven to 400.
Slice the lemon in half lengthwise, then cut each half into thin half moons.  Put the lemon slices, 1 tsp of olive oil, a pinch of salt and a pinch of sugar into a bowl and mix well.
Once the slices are well coated, place on a baking sheet and bake until brown in places, about 5 to 7 minutes.  Let the lemons cool, then slice each half moon into 3 pieces.
Once the lemon is in the oven, melt the butter in a large skillet over medium heat.  Add the onions, garlic, curry powder and thyme then cook until the onions soften, about 5 minutes.  Add the chickpeas and cook until they get warm to touch, about 3 minutes.
While the onions are cooking, pulse the cauliflower in a food processor until it is the consistency of couscous.  Add it to the chickpeas and onions and sauté until just tender, about 5 to 10 minutes.
Mix in the almonds, raisins and parsley. And, if you'd like a little kick, add a pinch of crushed red pepper.  Season with salt and pepper and top with the candied lemon.
That's it.  Enjoy!
Serves: 2