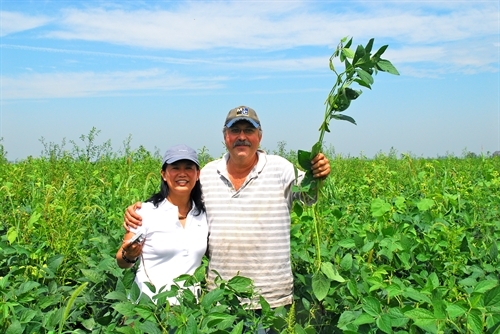 One of our favorite things about Meez is introducing our members to new ingredients and recipes. One ingredient we get questions about all the time is our tofu.
"Where can I find Meez tofu?"
"My son is hooked on your tofu. Where can I buy it?"
"My husband has never liked tofu until now. Where else can I get it?"
Our secret is a local company called Phoenix Bean. Our founder tried their tofu at a farmer's market 6 years ago, and when Jen started Meez she knew their product had to be on our menus.
It's made by hand in small batches from organic soybeans grown right here in Illinois by Phoenix Bean Products. Phoenix is Chicago's oldest tofu factory, and today it's owned by Jenny Yang.
Jenny grew up enjoying tofu as a child living in Taiwan, but her career was in finance at companies like United Airlines and Sara Lee. She was an ardent fan of Phoenix as a consumer, and when she learned the owner was planning his retirement in 2006, she knew the time was right to make a change.
Jenny jumped at the chance to be part of a tofu-making tradition that has been part of Chinese culture for hundreds of years, as well as helping to promote the nutritional benefits of soy as part of a balanced diet. Not to mention growing a small business with a phenomenal product into the city's premier tofu supplier.
The Phoenix factory has cutting edge equipment, but the team still uses many of the traditional handmade methods that has set it apart from other manufacturers. Phoenix hand selects, washes and soaks whole soybeans every day before production. They use natural black volcanic stone to grind the sprouted soybeans using local filtered water.
With minimal processing, Phoenix products retain their high nutrition and taste naturally with no preservatives. That's why the company continues to earn high praise from local chefs and a prestigious place in the kitchens of some of Chicago's most popular restaurants. And it's the only tofu we serve at Meez.
Phoenix tofu, soy milk and bean sprouts are available directly from their Edgewater production facility, at Chicago Farmer's markets, and at area stores, including Edgewater Produce, Harvestime Foods, Joong Boo Market and select Mariano's, Treasure Island and Whole Foods.