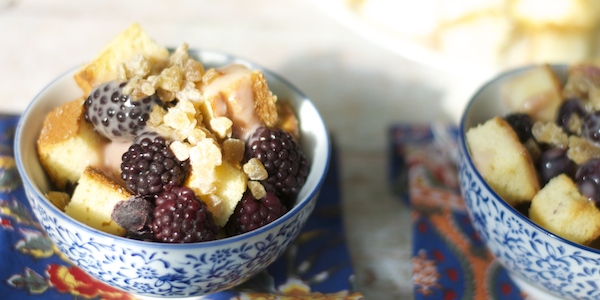 There is nothing like the sweet lushness of summer berries.  From strawberries to blackberries and raspberries, they make any meal taste like summer.  We're celebrating them this week with 10 of our favorite sweet AND savory recipes to take you from breakfast to lunch, dinner and dessert.
1. Pancakes
Is there anything more classic than blueberry pancakes?  We're fans, but love to mix it up with fresh strawberries, raspberries and blackberries.  Even better with strawberry jam in place of wintery maple syrup this time of year.
2. Blackberry Waffles
Spread your breakfast waffles with mascarpone cheese then top with apricot preserves and blackberries.
3.  Raspberry Pasta
Toss cooked pasta with raspberries, green beans, hazelnuts and herbs de provence
4.  Blackberry & Goat Cheese Endive Boats
Make an appetizer or a sophisticated salad by spreading endive with goat cheese, pistachios and blackberries
5.  Nectarine Raspberry Tacos
Make a fruit salsa with a squeeze of lime and fresh mint, then serve over fish or veggie tacos.
6.  Raspberry Couscous
Toss pearl couscous with feta, raisins, pecans, zucchini and a Dijon vinaigrette.
7. Blueberry & Brie Grilled Cheese
Spread your favorite bread with bread with mascarpone, then top with brie, arugula and blueberries simmered with lemon juice.  (It just takes a minute to soften them and makes them more flexible for the sandwich.)
8.  Summer Salad
Pair arugula with raspberries, really great parmesan and almonds for a delicious summery salad
9. Ginger Strawberry Mojito
Can you say delicious? Fresh ginger, strawberries, mint, lime juice, brown sugar, rum and ginger ale.  Oh my!
10. Berry Trifle
A deconstructed trifle (above) is just about the speediest dessert possible.  We make ours mixing blackberries and blueberries together with ginger strawberry yogurt and plenty of delicious pound cake and topped with candied ginger.