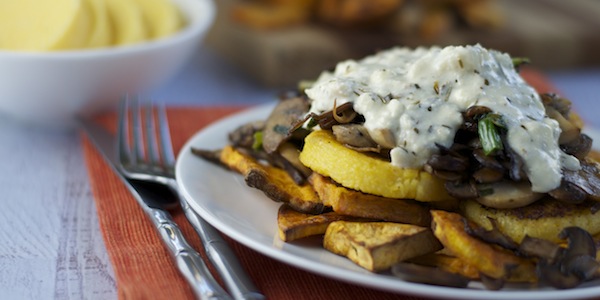 Need a little dinnertime inspiration?  How does creamy melted feta sound?  With just 4 ingredients and 5 minutes on the stove, this sauce cooks up in a heartbeat and makes even the simplest dinner special. This week we're delighted to share the recipe, and some ideas for making it a dinnertime star.

Ingredients
3 oz feta (1/2 cup, crumbled)
1/3 cup half & half
1/4 tsp ground black pepper
1 to 2 cloves garlic, minced
Putting It All Together
Whisk all the ingredients together in a skillet over medium heat.  Simmer, whisking steadily, until it's warm to the touch, about 3 to 5 minutes.  Serve on top of just about anything to make dinner delicious.
(Serves 2)
9 Easy Ideas
1) With Mushrooms and Crispy Polenta
A classic Meez recipe members are hooked on
2) As a Stuffed Sweet Potato
Makes a simple dinner feel special
3) Tossed with Warm Beets and Pearl Couscous
Elegant and easy… and even better with toasted nuts
4) In a Butternut Squash Taco
Sweet and savory, and the taco makes it just plain fun.
5) Over an Omelet
Forget waiting in line for brunch.  This sauce will make your own weekend-worthy breakfast.
6) Spread On Crostini
Cook the sauce for a few extra minutes and it will be just the right consistency to spread on crispy bread.  Great as a snack or with a simple soup.
7) Paired With Pasta
Mix with hot pasta and fresh spinach, and you've got a sophisticated dinner in just 10 minutes.
8) Tossed with Farro
Trying to get more whole grains into your diet?  Serve farro with this sauce, and your family will be clamoring for more.
8) Over a Flatbread
Add your favorite vegetables and you have a treat