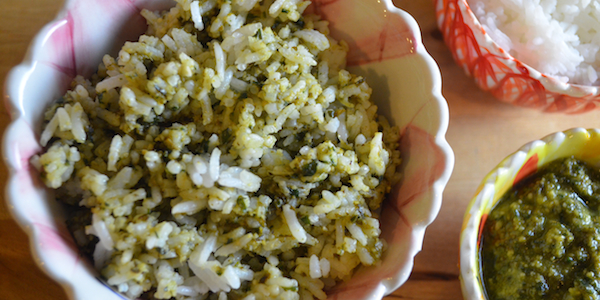 Rice has a reputation for being, let us say, a little dull. Sure, it's a bargain and we all have it in our pantries.  And yes, it rounds out just about any meal.  But it can be hard to get excited about.  Right?  Wrong!
Here are 10 ideas from the team at Meez to take rice from Plain Jane to something special in less than a minute.
1) Coconut Rice
Use a can of coconut milk in place of some or all of the water when you cook up the rice.
2) Hawaiian Rice
Coconut rice to the next level.  Mix some canned crushed pineapple into coconut rice after it's cooked.  A little fresh cilantro makes this even yummier.
3) Pesto Rice
Mix pesto into your cooked rice.  We use about 3 Tablespoons for each cup of cooked rice.
4) Cheesy Rice
Mix grated or crumbled cheese into your cooked rice.  Parmesan, Blue, Goat and Mozzarella Cheese all work great.  We use about 3 Tablespoons for each cup of cooked rice.
5) Moroccan Spiced Rice
Mix a little cinnamon, allspice, nutmeg and cloves into your cooked rice.  Raisins and slivered almonds make it even better.
6) Thai Rice
Add some red curry paste to the rice after it' s cooked. Make it more into Thai Fried Rice by adding sautéed veggies and a little scrambled egg.
7) Rice Pilaf
Cook with veggie or chicken stock, then stir in some generous dollops of butter, onion and parsley. Even better with some sliced almonds.
8) Curry Rice
Mix curry powder, raisins and toasted almonds into your cooked rice. Make it a meal by stuffing it into a bell pepper and adding chicken or tofu cubes
9) Double Sesame Rice
Mix cooked rice with sesame oil and top with sesame seeds for a speedy Asian flair.
10) Rice Pudding
Not a side dish, but so delicious we couldn't resist adding it to the list. Cook the rice using sugar and milk instead of water. (We use half as much sugar as rice.) Stir in some vanilla and raisins, or make it extra decadent with cocoa powder.