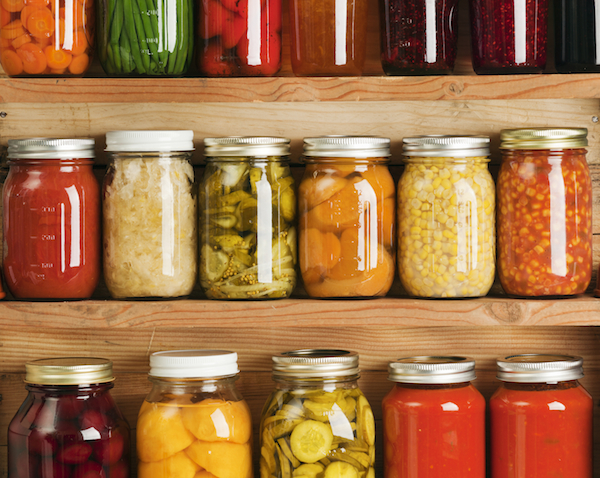 It's that time of year when we all want a fresh start. What better place to begin than your pantry? For most of us, it's a treasure trove of hidden gems you've been meaning to cook, all buried under stuff you bought too much of, only used half a container of or let slip past its "best by" date.  There is a better way, and this week we're sharing our 9 steps for spring cleaning your pantry.  It will inspire you to shake up your dinnertime routine, cut down on your grocery bill and do your part for green living, guaranteed.
1) Purge your pantry shelf by shelf
Take everything out of your pantry shelf by shelf and toss anything that's past its best by date.  Put everything that's been gathering dust for more than 6 weeks to the side on the counter and put everything else back in its place.
2) Donate everything that's lost its appeal
Take a hard look at the items on your counter which have been gathering dust. We like to put them into 2 groups: things you've been meaning to cook and the ones that, well, seemed like a good idea at the time and have lost their appeal.  (Be honest here!)
Donate the ingredients that have lost their appeal to your local food pantry.   Someone else would love to have them, and there's no need for them to hog space in your kitchen.  Then take mental note of the ingredients you've been meaning to cook and put them all back in the pantry.  Your pantry is now filled with food you truly want to eat.
3) Put a pause on grocery shopping
It's time to eat your pantry clean.  Do not put anything new in the pantry until you've cooked everything that's already there.  We love a challenge and like to stick to this one by the letter, cooking our pantry down to the last grain of rice and half cup of pasta.
That said, we understand that you may need to stay stocked up on cereal and peanut butter.  That's absolutely fine — just put them on a separate shelf so you can zone in on the ingredients that need to be cooked.
Now for the fun part: use the items left in your pantry to inspire your lunches and dinners.  Make it a challenge, choosing one or two ingredients to base a meal around.  You can stay traditional, or pretend you're on Chopped and see what crazy-but-delicious dinners you can come up with.  We've got some ideas to get you started below.
4) Cook your grains and beans
Dried grains and beans are economical, but hardly convenient when you need to get dinner on the table RIGHT NOW.  Our solution? Cook a big pot and freeze them.  Then, when you're ready to make a soup, a curry or delicious salad, you have them ready as fast as you can defrost them.  Just be sure to store them in single serving sizes so you can defrost just what you need.
5) Make a canned salad
Keeping canned veggies in case of a rainy (or winter snowy) day?  It's time to eat them up.  Try tossing artichoke hearts, sliced beets and chickpeas in a light vinaigrette to create a delicious canned salad.
6) Stir fry your veggies
An easy way to create a meal with canned veggies.  Saute peas, green beans or mixed veggies in a little oil, then serve with rice, sesame oil and a splash of soy sauce for a simple fried rice.  It has the added bonus of using some of that rice you cooked up and froze in Step #4.
7) Whip up a salsa
Sure, fresh tomatoes make the best salsas.  But diced tomatoes, corn and black beans can make a great canned version.  Mix in some dried cilantro, cumin or oregano to add some additional Mexican flavors.
8) Make antipasti
Have some mushrooms on the shelf? Add some olive oil, your favorite vinegar and dried spices and serve over toast for a quick bruschetta.  Olives, capers or artichoke hearts all make it even more delicious.  These also make  great mix ins for those cuts of pasta you need to use up.  Combine a few partial boxes and make a fun pasta salad that's great hot or cold.
9) Call the dinner hotline
Even the most create cooks need some help.  The dinner hotline is standing by at 773.916.6339 and we love to help with dinner, whether it's a Meez recipe, cooking something you found on a food blog or how to use up any ingredients in your pantry that have you stumped.  We'd love to help inspire you!
With your pantry clean, you can see all the goodies that had been hiding.  Maybe it's a special grain you bought that you'd been wanting to try.  Or a type of bean that looked special. Whatever it is, now you'll have a reason to give it a try.  And by putting a pause on stocking up your pantry, your weekly grocery bill will go down, and you'll do your part to reduce food waste.  It's an annual tradition at our house.  Let us know how it goes at yours!