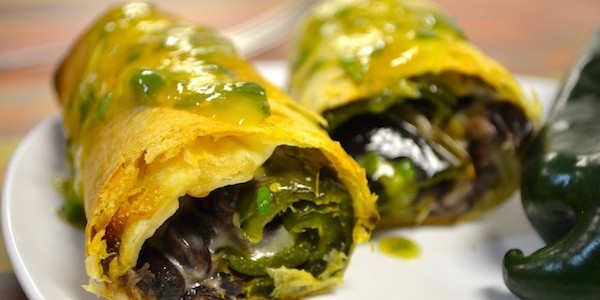 If your family is anything like ours, the mere mention of a burrito makes everyone's mouth water.  It's one dinner everyone loves and is easy to make.   Just choose your favorite toppings and roll.  Easy, right?  The trick is finding new ideas for making it delicious.  This week we're sharing 11 of our favorite ideas.
1) Roasted Veggie
With rice, feta cheese and fresh basil, it's fresh and simple.
2) Pizza
Talk about a crowd pleaser.  Pair marina sauce with fresh or shredded mozzarella and sautéed mushrooms and bake.
3) Refried Bean
Classic and delicious.  Spread a tortilla with refried beans and shredded cheese.  Roll and pan-fry in a bit of oil until the sides are browned and delicious.  Extra good with salsa over top.
4) Breakfast
Great any time of the day.  Roll scrambled eggs and shredded cheddar up and you've got a meal.  Extra tasty with browned breakfast (or veggie) sausage.
5) Guacamole
Simple and delicious.  Sauté black beans with onion, cumin and minced garlic.  Serve with mashed avocado, cilantro, fresh lime and sour cream.
6) Greek
With hummus, dill rice, feta and spinach, you've got family-favorite flavors in a whole new meal.
7) Asian
We make our famous Tokyo Tilapia Burrito with responsibly fished tilapia, sautéed veggies,  edamame, rice and a soy-ginger aioli.  It's heaven.
8) Cilantro Rice
Make a batch of cilantro rice (all it takes is a big handful of chopped cilantro and fresh lime mixed up with your rice) and  roll with black beans and grape tomatoes.  Add some sour cream, and it's perfect.
9) Fajita
Grill sliced peppers and onions, then mix with chili powder, quinoa, beans, salsa and cheese.  For an extra zing, add a squeeze of fresh lime over top.
10) Spinach & Mushroom
Sautée mushrooms with spinach, scallions, lemon juice and pepper jack cheese.  Roll and serve topped with enchilada sauce and sour cream.
11) Nutella Burrito
Yep, we had to go there.  Spread Nutella on a tortilla and top with your favorite fruit cut very small, cinnamon sugar and a little plain yogurt.