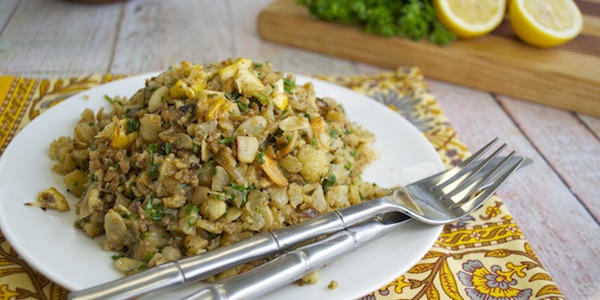 We're hooked on veggies at Meez.  They taste great and are great for you, so we love to build our recipes around them and let starches and fat take a supporting role.
Each week we have lots of fun seeing how we can sneak a few extra veggies into recipes while we're working in the test kitchen, and along the way we've come up with some great tricks for adding veggies and cutting carbs in almost any meal.
This week we're sharing six of our favorite tricks for making low carb, high veggie dishes that taste amazing.
1) Cauliflower "Rice"
We've fallen in love with this trick.  Pulse cauliflower in a food processor, then steam or sauté it and use in place of rice.  We love it with curry flavors, like the Curried Cauliflower with Almonds & Parsley above and our Roasted Artichokes de Andalucia, where it gets topped with a Spanish parsley and green olive sauce.
2) Zucchini Ribbon Noodles
Cut zucchini into ribbons on a mandolin and use in place of noodles.  They absorb the flavor of Asian sauces like a dream and are fabulous with Italian flavors.  (They're also great raw with lemon vinaigrette.)
3) Spaghetti Squash Pasta
Roasted spaghetti squash naturally cooks up as spaghetti-like strands.  It tastes great with marina sauce, particularly with a sprinkle of feta over top.
4) Serve on a Salad
How many times have you seen restaurants plate the main course on top of greens?   Well take this idea into your own kitchen.  We serve almost anything over a bed of greens at home. They can be raw or sautéed, whatever seems like it will complement the flavors best.  We love this trick with everything from enchiladas on a bed of sautéed spinach to pot pie dished up over arugula.
5) Eggplant Grillers
Build a sandwich on roasted eggplant rounds instead of bread.  They're delicious hot with basil pesto and fresh mozzarella, cold with hummus and cucumbers and everything in between.
6) Polenta Anything
We're stretching the veggie definition on this one, but we couldn't resist adding cornmeal polenta to the list.  It's lower-calorie and lower-carb than pasta, and it makes the perfect base for sautéed vegetables in a delicious sauce.  Or toasted and crumbled on a salad.  Or topped with cheese and served with soup.  The options are endless.