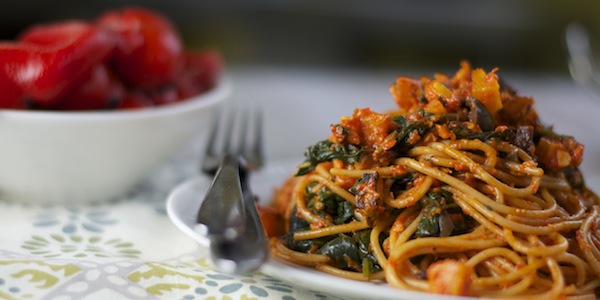 There are few words more inviting than the words rich and creamy.  But those words also usually come with a calorie count that's through the roof.  Not so in the Meez Kitchen.  This week we're sharing seven of our favorite ideas for making rich, creamy sauces without the guilt.

1) Mashed Avocado
This super food brings a creaminess to dinner we can't resist.  And while it's great for Mexican recipes, it transcends genres.  One of our favorites combines pureed avocado with basil, garlic and a splash of olive oil for a creamy Italian pasta sauce.  (Also delicious on baked potatoes!) 
2) Roasted Red Peppers
Puree some into your next pasta sauce, and you'll be amazed at the velvety texture and rich flavor they bring.
3) Make a Low Fat Béchamel
When prepared with low fat milk, you can create a great, low-fat thickener.  Combine 1 cup low-fat milk with 4 teaspoons all-purpose flour; whisk over medium heat until bubbling and thick.  Use it for mac and cheese, vegetables, or whatever grabs your fancy. 
4) Use Full Flavored Cheeses
A little cheese goes a long way when it's packed with flavor.  Instead of using handfuls of mild cheddar in your next mac & cheese, try using a little gruyere, blue cheese or extra sharp cheddar, instead.  You'll get more flavor with fewer calories.
5) Quick Cooking Oatmeal
Crazy, we know, but it works.  Add 1 to 2 Tbsp oatmeal for every cup of water or stock and simmer your sauce, then puree.  You'll have a sauce that's creamy AND heart healthy.
6) White Rice
White rice makes another magical thickener.  Use 2 Tbsp for every cup of water or stock and simmer 25 minutes, then puree.  Take it upscale with white wine and onions. 
7) Pumpkin Puree
It's rich and creamy, and the perfect base of pasta sauce, pizza toppers and over vegetables.  Just mix up with some sautéed garlic and a splash of olive oil and milk.  Even better topped with gruyere or blue cheese.