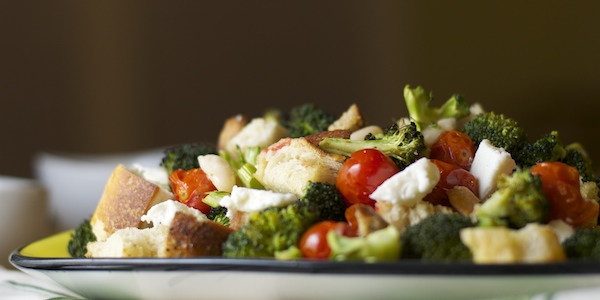 No time to stand at the stove? Hate the idea of washing two pans? We've got 9 ideas for fuss-free dinners perfect for even the busiest night of the week.
1.  Panzanella
An Italian bread salad is our kind of hands-free dinner.  Toast chunks of bread along with veggies on a sheet pan in the oven, then toss in a bowl with a delicious dressing.  (Balsamic, creamy aioli, Dijon… They all work great.)
2.  Mini Lasagna Cups
Lasagna flavor without the hassle.  Line muffin tins with wonton sheets, then fill with marinara sauce, ricotta and fresh herbs.  It's a meal the whole family will devour.  (We like to add a little frozen spinach into the mix, but that's strictly optional.)
3. White Wine Casserole
Vegetables braised in white wine get a flavor that can't be beat.  Cook your favorite root vegetables with beans, wine and some vegetable stock, then top with croutons for a restaurant-worthy hands-free meal.
4. Naan Pizza
Or Pita. Or French Bread.  Or Bagel.  You can still make pizza, even when you don't have fresh pizza dough.  Top your bread of choice with thinly cut veggies, melty cheese and, if you'd like, marinara sauce.  Dinner is heartbeat away.
5. Couscous Bowl
Stove AND oven free.  Pour boiling water over a bowl of couscous.  While it's absorbing the water, raid your fridge and pantry for leftover roasted veggies, canned artichokes, fresh greens, herbs and chickpeas.  Choose your favorites and mix into the couscous, then top with a delicious cheese.
6. Oven Quesadillas
Even easier than stove top.  Roast some thinly sliced veggies on a sheet pan with 2 cheese-topped tortillas next to them. When the cheese melts, top with the veggies and close to create the quesadilla.  Yum!
7. Spaghetti Squash Puttanesca
A veggie sneak and hands-free dinner all in one.  Roast or microwave spaghetti squash to create the "spaghetti", then top with chopped tomatoes, olives, capers, basil and Parmesan.  Delicious, healthy and easy.
8. Pesto Toasted Gnocchi
Toast gnocchi with your favorite vegetable, then toss with pesto.  It's irresistible.
9. Chilled Soup
Puree a can of white beans with a cup of yogurt, a cucumber, mint and a little garlic in the food processor.  Serve topped with olives, nuts or croutons.   Brilliant.